Custom Query
To make a query of the download requests navigate to the "Generate Visualization Results" tab on the top of this page. When at the Query page select the desired requirements. Once the desired choices are made, select Submit Query. This will bring up a download page that will display useful statistical results with the option to download .kml files or to view the results with the Google Earth plug-in.
Sample Query Result
Here is an example of a custom user query: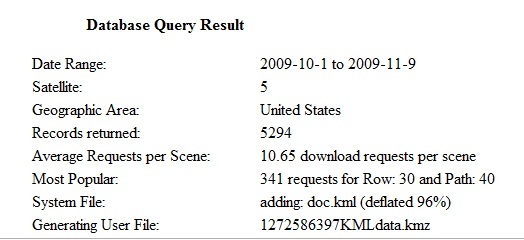 The row and path numbers relate to the global mapping scheme used by EROS to designate geographic locations relative to the position of the Landsat satellites that record the images. Every row/path combination maps to a unique Latitude/Longitude centered position on the earth.


Google Earth Plug-in
The results of the user-defined query can be viewed within the web browser by selecting the "View via Google Earth Plug-in" button at the bottom of the query results page. This currently only works for Windows users, and a download link for the browser plug-in will be provided if necessary. WARNING: Use of the browser plug-in is very graphics intensive and will result in sluggish response on machines with marginal graphics resources.
Pre-generated Visualization Data
A table of pre-generated KML files is accessible from a table by selecting the "Pre-Generated Visualization Results" button at the top of any page on the site. The table is organized by year and month, and the number of download requests for each month are displayed above each link. Several months display "No Data" because download requests for months prior to October 2008 (the release of satellite imagery to the public domain) were not analyzed, and data is not yet available for the later months.